Description
2022 New Design Gold Dog Chain Collar

Make your dog look fashionable with our 19mm gold chain!
Note: The collar does not contain a tag
Gold Plating 20X Thicker: The Gold Chain Dog Collar will earn your dog top spot
at the park. Made with 20X thicker 18K gold plating over a 316L Martingale
stainless steel.
Our lightweight and durable heart-meltingly elegant design offer the perfect look
to your dog all year round. Our dog chain collar with a secure snap buckle enhances
your furry friend's entire appearance with comfort and joy! This gorgeous
non-adjustable necklace is strong enough to withstand 700 pounds of brute force
trying to pull it apart.
This unique, solid & heavy duty gold chain dog collar by PET STATE is suitable for
large & medium-sized dogs such as Saint Bernand, Husky, German Shepherd or
pitbull!
Our rust & corrosion free chock collar remains the same for an extended period.
Material: Stainless Steel, Metal;
Closure Type Snap, Buckle.
LOOKING FOR A WAY TO LEVEL UP YOUR DOG'S STYLE?
For a devoted pet parent, there's nothing more enjoyable than being able to give
their fur babies the best of everything, from cute sweaters to trendy sunglasses
or dog-gles. But one that's often overlooked is the collar. Most people would go
with something practical and functional, albeit looking very plain. But not you;
you know how to treat your four-legged bestie right. And this is why you're on
the prowl for a collar that's both stylish and comfortable; something that your
dog will love and be proud to wear.
This Dog Gold Chain Collar from PET STATE is the paw-fect pet accessory for
the fashion-forward pooch!
Dog Gold Chain Collar Sizing: The dog chain's width is 19MM (0.75″) and has a
nice weight from 200g (0.44lb) to 370g(0.82lb) depending on size. Please note
that this chain is NOT adjustable.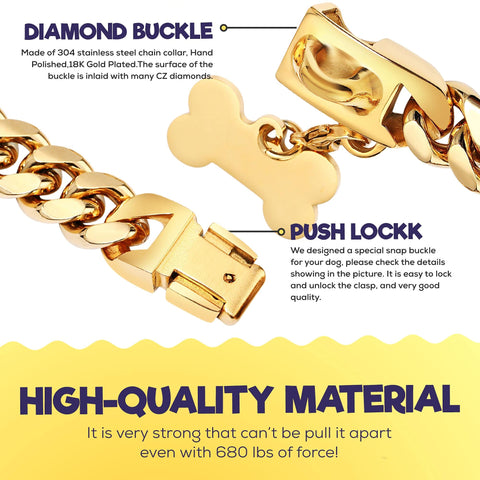 Easy To Use Buckle: The unique secure snap buckle for this gold dog chains
was carefully designed to swiftly lock and unlock and is strong enough to
withstand 700 pounds of brute force trying to pull it apart.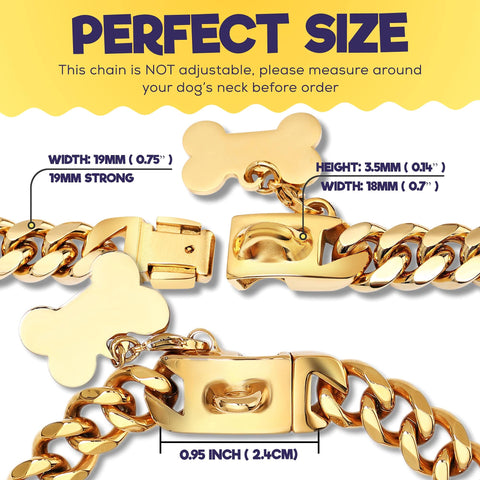 Highly Durable: This dog chain collars was constructed with high quality
materials made to stand the test of time or the strongest jaws. No rust, no
corrosion, just a beautiful luxury gold dog collar each time it adorns your furry
friend.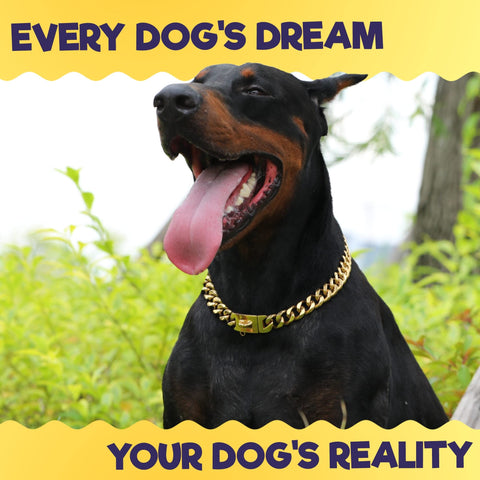 Great As A Gift: Who doesn't love a gorgeous necklace that happens to be
durable enough to chew on. This choke collar is perfect for any medium or l
arge sized dog. A Saint Bernard, Husky, German Shepherd, Husky, or Pitbull
will look fabulous strutting their stuff with this fancy dog collar draped along
their neck.