The Starry Night Eternity Ring
$15.99
Description
In a stunning display of style and craftsmanship, this necklace is brought to you. A combination of light blue, midnight blue, yellow gold and white stones, the necklace is a premium miniature version of Van Gogh's timeless Starry Night painting.
This piece of work reminds us to trust our dreams and not believe the critics of the world. "There is always hope, even in the darkest of times." So trust your dream and let this alluring jewelry make a statement.
With top quality artificial gems, this ring has a resplendent sparkling and reflects rainbow gloss in the sunshine. Lead-Free & Nickle-Free, no harm to health.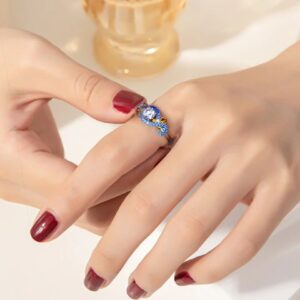 Occasion: Suitable for many occasions such as evening party, important ceremony and gatherings of friends, birthday, Valentine's Day, wedding, dating and everyday life. This Ring colors your outfit, makes you look more radiant and confident.
Best Gift: If you are looking forward to a gift for your wife, mom, daughter or friends, this ring will be the perfect gift for Valentine's Day, Birthday, Mother's Day, Anniversary, Thanksgiving or Christmas.
SPECIFICATIONS:
Material: Artificial Gems, Alloy Plated
Size: Adjustable