Hanging Hummingbird Feeders for Outdoors
$20.99
Description
Bright colors and Unique design -Easy to attract the hummingbirds
Include Ant Moat – Do not need to worry about the ants and bees any more
16 oz Large Capacity and 6 flower Feeding Ports
High Quality and Easy to clean
Decorate your garden more beautiful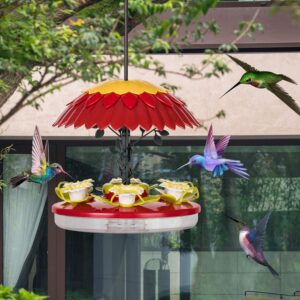 A Backyard Décor You Should Have
Our Hummingbird Feeders made of durable plastic construction, with it's life-like floral design, will surely charm all the hummingbirds to come and hangout at your area.
having so much fun watching birds constantly coming and going.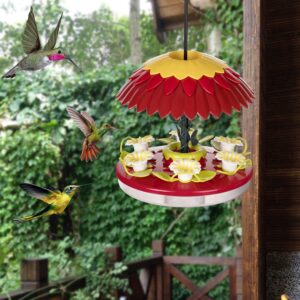 Easy to Use Hummingbird Feeder
The red plastic base of the feeder can be taken apart for easy cleaning and wide mouth bottle is easy to refill nectar.
A hanger on the top is ready to hang on bird feeder hooks, deck hooks and poles in your garden. Best of all, it comes with a built-in moat and bee guard!
That ensures only the birds will have a feast on your state-of-the-art hummingbird feeder.
FEATURES:
– Designed of durable plastic construction(13.9″x 7.8″)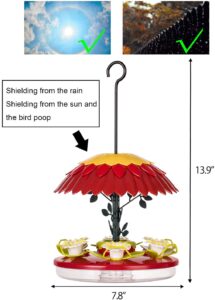 – Displays on flat surfaces or hangs with "S" hook
– 16 oz. capacity & 6 feeding ports
– Encourages hummingbirds to land for feeding on integrated porch
HUMMINGBIRD'S FAVORITE – This hummingbird feeder with 4 white flower-shaped feeding ports and allows hungry hummingbirds to perch and feeding at the same time. That's perfect for a hummingbird party, which is sure to attract hummingbirds to feed.
EFFICIENT DESIGN – Our hummingbird feeders for the outdoors with 32 Ounce nectar capacity hummingbird feeder, no need to refill frequently.
BUILT-IN ANT GUARD – There's no worries for ants or bees since our red hummingbird feeder also has a built-in ant moat and bee guard.
EASY TO ASSEMBLE & CLEAN – The hummingbird feeder can be taken apart for easy cleaning and assembling. Not easy to break or fall off, allowing you to experience a comfortable buying experience.