Hard Alloy Saw Blade For Cutting Wood, Cement and brick
$16.99 – $23.99
Description
Features:
Professional saw blade for red brick and stone cutting
This reciprocating saw blade is designed to reduce the amount of dust that is created and has weight optimization for lower vibration levels.
Universal. Works with all major reciprocating saw brands such as DeWalt, Makita, Ridgid, Milwaukee, Porter & Cable, Skil, Ryobi, Black & Decker, Bosch, Hitachi.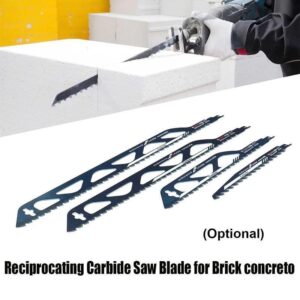 Specifications:
Model: S3243HM/S2243HM/S1243HM/S0243HM
Material: Tungsten Carbon Alloy
S3243HM
Length: 19.88 inch
Width: 2 inch
Thickness: 0.06 inch
Suitable for cutting porous concrete, red brick, fiber cement (<16 inches), glass fiber reinforced plastic, epoxy resin (<5.9 inches), etc.
Suitable for abrasive materials
S2243HM
Length: 17.9 inch
Width: 2 inch
Thickness: 0.06 inch
Suitable for cutting porous concrete, red brick, fiber cement (<16 inches), glass fiber reinforced plastic, epoxy resin (<5.9 inches), etc.
Suitable for abrasive materials
S1243HM
Length: 12 inch
Width: 2 inch
Thickness: 0.06 inch
Suitable for cutting porous concrete, red brick, fiber cement (<0.98 inches), glass fiber reinforced plastic, epoxy resin (<5.9 inches), etc.
Suitable for abrasive materials
S0243HM
Length: 8.86 inch
Width: 0.98 inch
Thickness: 0.06 inch
Suitable for cutting porous concrete, red brick, fiber cement (<8.86 inches), glass fiber reinforced plastic, epoxy resin (<5.9 inches), etc.
Suitable for abrasive materials
Package included:
Additional information
| | |
| --- | --- |
| Size | 12 inch, 17.9 inch, 19.88 inch, 8.86 inch |