SALE!

Description
"I feel like I can conquer the world with one hand, when you are holding the other"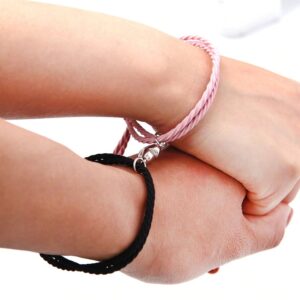 Features:
Magnetic Couples Bracelets Couple bracelets with a magnetic love heart pendant, which can be attracted to each other tightly when they are approaching and form a complete love heart. It means that only when we are together is perfect.
Adjustable Design Magnetic bracelets for couples is adjustable from 18cm to 22cm, easy to create the most perfect fit size for you and your couple or friends.
Upgrade Material Upgraded magnetic bell, stronger absorption, matching couples bracelets hold you and him tightly together. Hand-woven high-quality nylon rope, resist fading and wear, symbolize the eternal love between you and him or her.
Creative Couple Gifts Packed with a bag. Magnetic bracelet can be used as sweet gifts for boyfriend/girlfriend/wife/husband/lovers/best friends on Valentines Day, Birthday, Anniversary, Engagement, Graduation etc.
Made from a balanced Blush Pink and Onyx Black braided tassel, each bracelet signifies a deep bond of trust, love, and laughter.
Never let go of your hand
Magnetic couple bracelet will connect the couples' hands and hearts.
From the moment I grabbed your hand, I didn't want to let go.
I love you with all my heart, without reservation, from my heart.
Symbolizes your sweet love, and firmly locks the eyes of passersby.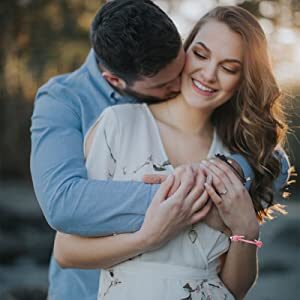 Magnetic Love Bracelets will remind you that your love is always present, no matter how far away you are from each other
Stainless steel magnets and tips. Adjustable size. Set of 2.