SALE!

Multi-Purpose Fruit Stem Huller
Description
Breeze through food preparation tasks with the Multi-Purpose Fruit Stem Huller. It is perfect for removing strawberry stems, which reduces the effort and time it takes you to cut and de-stem fruit and vegetables.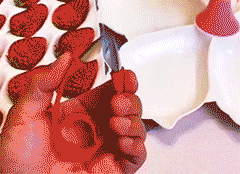 FEATURES
Multi-Purpose Fruit Stem Huller
Hulls strawberries, other fruits and vegetables in just 1 second!
Effort & Time Saving
Essential tool for those who process tomatoes or strawberries for salad. Significantly cut down prep time 
Stop Wasting PulpReplace knife to avoid the plenty waste of cutting pulp
1-Clip Remove
You just clip it and the fruit will be hulled clearly
Simple Usage
Work well on all sizes of fruit or vegetables, simply hull entire stem and without waste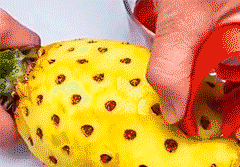 Wide Application
Can hull different kind of fruit and vegetables. For instance, strawberry, carrot, pineapple and tomato etc.
Kid-Parent Cooperation
Make kids fall in love with eating fruit by interesting making process 
Effortless Dessert
Make different creative unique salads and fruit desserts with ease, excellent dessert for parties of birthday, Christmas, wedding etc.
Durable Material
Made of high quality stainless steel and PP
Comfortable HandleWith ergonomic handle, you can hull over 100 times without tired and painful feeling
SPECIFICATIONS
Material: Stainless Steel, PP
Weight: 10.5g
Size: 9.5*2 cm; 3.7*0.8 in
Color: red
Package: 1 * Multi-Purpose Fruit Stem Huller