Description
Portable Personal Neck Fan, Battery Operated Rechargeable
Rechargeable battery operated necklace fan was designed for people who want to get cool with hands free. Portable and compact size make it possible for you to take it anywhere. The battery capacity allows you to use this sports fan for a long time, 2000mAh rechargeable battery allows you charge it easily. The genius design of neck hanging makes it more flexible and convenient, which is perfect for outdoor activity, such as for walking, travel, off-roaders, camping, hiking, gardening, hot concert, beach, trip to Disney etc.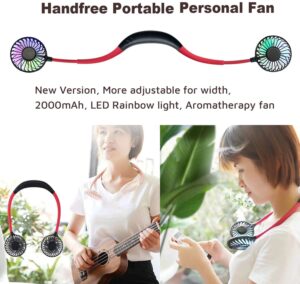 Portable Wearable Personal Neck Fan, Battery Operated Rechargeable for Travel Sports and Outdoor Work
The neck band design fan allows you to enjoy the coolness without having to handheld, you can free up your hands to do other things. is good companion for hot weather working outdoors and commuting or travel.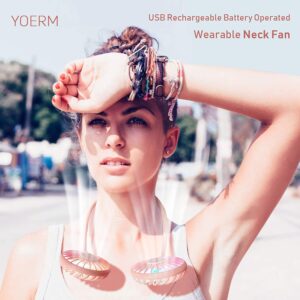 New style upgraded scalability is more flexible, can be stretched to 18 inches for easier to wear. fan can be 360 adjustable wind direction, can be adjusted level 3 wind speed and with LED rainbow light.
You can add perfume to the USB fan. such as rose flower, ocean, gulong perfume etc. to enjoy cool breeze while you are in the office or outdoor activities, and at the same time, the aroma will make you relaxed and happy.
2000mAh lithium battery fan built-in rechargeable was powered by USB, No need to buy batteries. Notebook, desktop computer USB interface, mobile power, power adapter, car USB interface, etc. can be charged.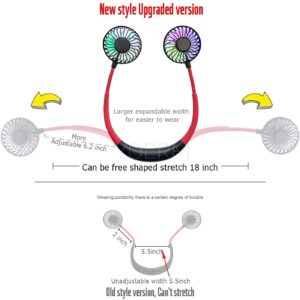 The Hand Free Mini Fan is made of ABS material. Brushless silent motor more quieter and more power saving. Designed 7 bionic fan blades. This makes the fan light and durable.