SALE!

Description
A must-have for every family to meet all your daily needs
FEATURES:
Multi-function – The set includes 1 handle and 5 functional plier heads which are made of 40CR13 except Linesman Plier is made of high-carbon steel.
Unique design – The plier heads can be easily replaced to meet all your needs. Just choose the plier head that you need and insert the plier head into the handle then it is all set.
Easy to carry – Our Saker 5 in 1 Replaceable Pliers Set has a light weight and it won't take you a lot of space so you can carry it when you work.
FIVE PLIER HEADS
Wire Stripper: This wire stripers can quickly strips solid wire and stranded wire; the sharp blades make clean cuts on even thick wires. It won't cause any harm and make a perfect cut.
Linesman Plier: Its professional designed for lineman Twisting and Clamping Screws. Precision-hardened plier head for on-the-job toughness.
Cable Cutter: This cable cutter cuts aluminum, copper and communications cable. Precision, one-hand shearing action and Cable-gripping shear-type jaws.
Scissor: Solid material iron scissors is sharp for easily shearing iron sheet. That is a good co-worker for locksmith, electrician or family.
Pruning Shears: This quality pruning shears come with stainless steel precision-sharpened blades and are ready to tackle all of your deadheading, trimming, and shaping needs for your gardens.
SPECIFICATION
Materials: TPE soft rubber(Handle); High-carbon steel(Linesman Plier head)
Color: Brown and beige(Handle); Silver(Plier Head)
Weight: 1.44lbs (Total weight)
Handle: 0.62lbs
Wire stripper head: 0.1
3lbs
Linesman Plier head: 0.22lbs
Cable cutter head: 0.16lbs
Scissor head: 0.14lbs
Pruning shears head: 0.16lbs
Size: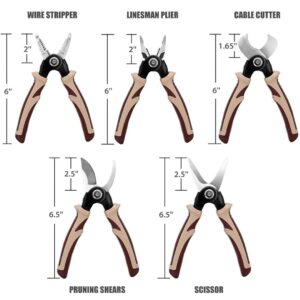 :
PACKAGE 1*
5 in 1 Replaceable Pliers Set