LED Galaxy Projector Starry Night Light Laser Star Sky Ocean Projection Lamp
$41.98
Description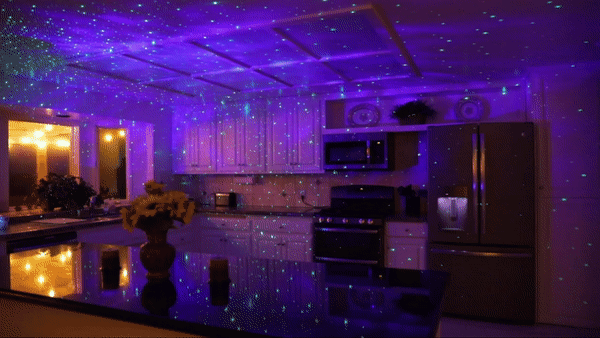 10 Planets Galaxy Projector Lights: There are 10 planets in the solar system (Mercury, Venus, Earth, Moon, Mars, Jupiter, Saturn, Uranus, Neptune, Pluto) built in the Milky Way projection light, which can be manually selected through the side gears to add interesting embellishments to the sky.

The speaker of the galaxy projector light can be connected to a smart phone via Bluetooth, switching and selecting songs more freely. The sound-controlled lighting gives the starlight projector a sense of rhythm and makes the party more fun. The remote control of the galaxy projector lights can remotely control the lights mode, brightness, play music and timer, making it easier to use.

The Nebula night lights can be easy to set up and controlled by the remote control. With the remote that you can adjust the brightness, control the motor speed, set lighting effect mode, change color. The instruction manual described how to use this product in detail, you can also reach us to get suggestions.

Through a variety of color combinations, the star projector can provide 10 kinds of dynamic light projections, with adjustable rotation speed. 15 Lighting Colors make the nebula more dreamy and charming. You can reduce the speed to the lowest level to create a harmonious atmosphere for gathering, a relaxing workspace for partners or a romantic dinnertime for lovers.

The galaxy star projector lights can be used as a gift for kids or friends on birthdays, parties, Children's Day, and Christmas.