SALE!

Tire Pressure Monitoring System solar powered,for all type of Cars
Description
Saves lives And  Money
Around 2% loss of fuel consumption under incorrect inflation
You're driving home from work at highways speeds and your steering wheel begins to pull. It gradually gets worse, then you hear a thump-thump-thump noise and your car get out of control. You realize you shouldn't have ignored that tire pressure check yesterday (and again this morning).
Believe it or not, the National Highway Traffic Safety Administration (NHTSA) in the US reported in 2019 that 20% of accidents occurred due to a blown out tire.

How important is the air pressure in your car tires?
According to many car magazines and studies, the air pressure in your tires is one of the most important things that keep you safe on the road.
Insufficient air pressure leads to more problems than you can think of, but one of the main dangers is a burst tire that can most certainly cause deadly accidents.
Of course, newer and more expensive cars monitor all changes in your tires and notify you of any dangers. However, most cars we drive do not have this little but important luxury.
Our innovative engineers have come up with a great solution that will keep you safely on the road at a very affordable price. The Car TPMS Wireless Solar Tire Pressure Monitoring System is an amazing new gadget that monitors the pressure in your tires, real-time and sends information to the main receiver every 2 seconds via wireless technology.
The installation of the system is a child's play and takes only a few minutes. The air pressure sensors are rechargeable via a solar-powered. When you install the sensors, you have insight over the air pressure in the tires and the main receiver notifies you with a beep sound of any changes in the tire pressure.
One of the greatest features of this system is that the sensors are IPx64 certified, which means they are waterproof.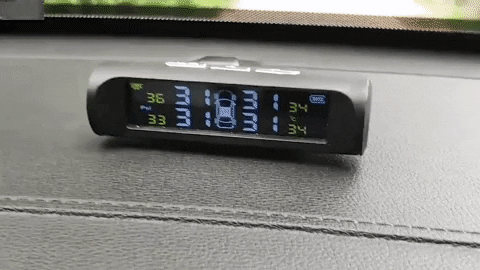 So why do you in fact need this gadget?



  Too high tire pressure can cause the tires to explode which in many cases will cause a major accident with huge repair costs (in best case scenario only on your car), uneven abrasions will shorten the lifespan of your tires which can get you a fine or even an accident.
  Too low tire pressure cause your tires to tear and you become a safety risk on the road and last but not least tire leakage will cause damage to tires as well as rims and your car can spin out of control. The little price of this tire monitoring system is way lower than any price of not having them installed on your tires.
Get our air pressure monitoring system and know in your consciousness that, you and your entire family are safe on the road!
Main Features:
– Tire pressure updates every 2 seconds.
– Battery high and low-temperature protection 80 -20 degrees
– Ipx67 waterproof
– Solar charging
– 24 hours battery life with USB charging port to support rainy weather.