Squirrel Proof Wild Bird Feeder
$39.99 – $42.99
Description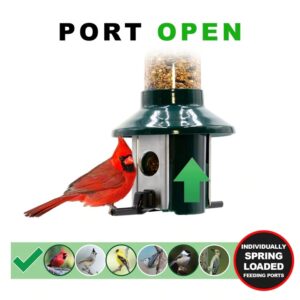 All metal baffles built with a riot grade shield quality tube – no squirrel has ever chewed through it.
Fully squirrel proof and large bird proof, including pigeons, crows, rats and more!
No settings to adjust – individually spring loaded feeding ports only let songbirds feed not pests.
No set up required, ready to use straight out the box
Huge Capacity of 3 lbs – no need for constant refilling.
Weather Proof  – No seed clogging, built in rain guard above seed ports keeps the seed dry and fresh.
We made sure to make it easy to take apart so it's very easy to clean and fill.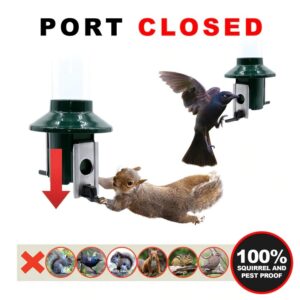 100% Squirrel Proof Guaranteed
When anything heavier than a songbird tries to feed, the food ports individually shut. When the larger animal moves off the perch, the ports automatically open. This combined with metal baffles and a riot grade material tube, makes our bird feeder truly squirrel and large bird proof.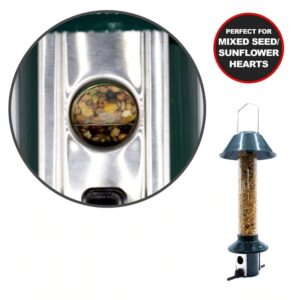 Fully Weather & Rain Proof Guaranteed
With built in rain guards, the feeder is completely rain proof meaning your seed will stay dry and fresh no matter the weather.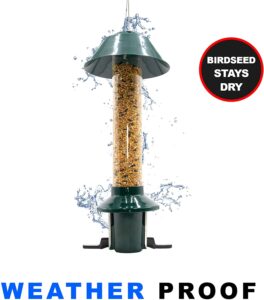 HOW IT WORKS?
When a large bird, squirrel or rat lands on the perch, the perch hatch moves downwards blocking off access to the food. Once the frustrated pest moves off the perch, the perch hatch automatically returns to its open position awaiting for the next songbird to feed, or to stop the next pest – Let the small birds feed!
NO SETTINGS TO ADJUST – AUTOMATICALLY PEST PROOF
The Pest Off bird feeder has INDIVIDUALLY spring loaded perches that never need adjusting, it is ready to go straight out of the box. This also prevents the feeding ports closing when too many birds try to feed from the feeder at the same time, a common problem with single mechanism weight responsive squirrel proof feeders.
NOW ALL METAL & NOW WITH A BIGGER 3LBS CAPACITY
NOT JUST A 100% SQUIRREL PROOF BIRD FEEDER – Also baby squirrel proof, red squirrel proof, chipmunk proof bird feeder, and stops larger birds. Pests cannot feed so it SAVES you money!
WEATHER PROOF & WATERPROOF – KEEPS SEED DRY & FRESH
The Pest Off bird feeder has a built in weather guard to keep the seed fresh and dry to prevent seed clogging. Seed clogging is a common problem with other weight activated bird feeders that have no seed protection.